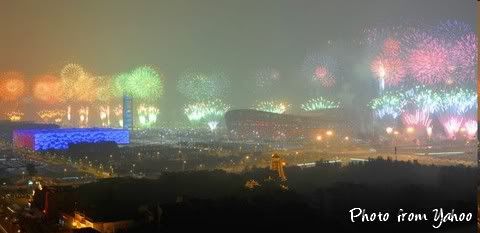 And is it a bad thing if it was?
I opened up my browser to Yahoo after lunch to read that China had "faked" some fireworks at the opening ceremony of the Olympics. My first thought was "How typical of China"
But then, when I read the reason for it:-
The faked fireworks were actually set-off at the stadium, but because of potential dangers in filming the display live from a helicopter, viewers at home were shown a pre-recorded, computer-generated shot. It sounds dishonest, but I'm not sure it's such a terrible thing.
Honestly, the word "faked" suddenly did not look right.
I'd have prefered the use of the word "simulated". Its like saying that fighter jet pilots have "fake bombing missions", when what they do have is "simulated training".
Be that as it may, faked or not, simulated or not, I don't think it detracts one bit from the grandeur of the ceremony. Besides its not as if no fireworks were let off in Beijing at the stadium itself. And if you think about it, its probably better that fewer fireworks were actually let off in Beijing seeing as to how they are battling the haze due to pollution as it is.
Fewer fireworks = fewer particles to pollute = a better Games maybe?
As for us watching on tv, we are none the wiser and are suitably impressed.
So, really. What's the fuss?